More Information – Contact us to price a professional move for this table
Browse pool tables for sale in Stockton, Lincoln Village, Ripon, Tracy, Lodi, Lockeford, Morada, Lathrop, Manteca, Linden, Brentwood, Antioch, Ione, Vernalis, Galt and more. Call us for pricing to move these pool tables professionally with our exclusive entire year written service guarantee protecting you from any potential problems with our professional installation.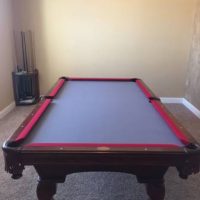 Olhausen Felt Pool Table in great conditions. Red and blue felt like new. Comes with all accessories and a cue rack.
05/17/2018
Price: $ 1,100.00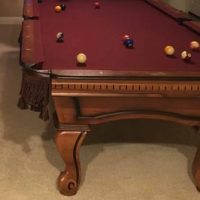 8ft Wine color felt, pocket style-Milano barely used pool table. Includes all accessories: Ball. Sticks. Rack. Stick holder. You must pick up.
05/17/2018
Price: $ 1,700.00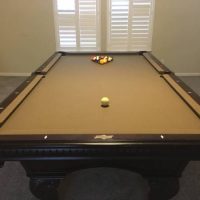 Beautiful maple pool table for sale. Wall mount, balls, and sticks included. You move.
05/17/2018
Price: $ 1,400.00